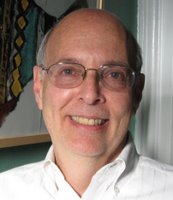 Harold "Hal" Meyer, M.B.A., SCAC and Board Certified,  founded The A.D.D. Resource Center in 1993.  The Resource Center was a natural outgrowth of the work he had begun in 1989, as co-founder  of CHADD of New York City (Children & Adults with Attention-Deficit/Hyperactivity Disorder), the national volunteer-based organization.
The solutions-focused Resource Center was designed to meet the growing need for individualized education, advocacy and specific skills training for individuals with ADD/ADHD and their families, schools and employers.  Hal is both the Executive Director of the Resource Center and a ADHD/personal/business coach, working with children and adults to maximize their potential.
Hal's interest in ADHD began with the diagnosis of his son in 1989.  At that time, the information available on this disorder was minimal.  He began CHADD of New York City with the goal of providing parents, adults, educators and health/treatment professionals with current information, education, advocacy, support and referrals for ADHD-related issues.  In addition to co-chairing the local chapter (which he continues to chair more than 15 years after its founding) Hal served as Executive Committee Board Member and Treasurer for the CHADD National organization from 1993-1997, chairing both the Finance & Management and the Internet & Technology Committees.  He continues to advocate for individuals with ADHD through his involvement with IAAC, the Institute for the Advancement of ADHD Coaching, where he serves as past President.  IAAC is dedicated to ensuring that those coaches working with the ADHD population are especially qualified to do so, with the highest level being a Senior Certified ADHD Coach (SCAC)and Board certified.
His knowledge of the educational system comes firsthand – Hal was elected to, and served as the Chair of New York City's Community School Board #3, which served the needs of more than 14,000 students in both regular and special education.  He has also served in a number of advocacy positions, including a task force for the U.S. Department of Education.
He has taught workshops for school administrators, psychologists, speech and language teachers and parents, helping them to understand the needs of students with ADHD.
Hal was one of the pioneers of disseminating information on ADHD via the internet (as a SYSOP on the CompuServe ADD Forum), and continues to run an E-List dedicated to providing timely information on ADHD and related topics to registered professionals, parents and adults.  (To subscribe, send an email request to addrc@mail.com).
Prior to his involvement with ADHD and related issues, Harold Meyer held various positions in the corporate world, including Vice President at one of the leading international advertising agencies, and owner of a high-end computer retailer/consulting company.  His business experience and masters of business degree (MBA) add an important dimension to his successful coaching of adult clients.
Policy Making Positions

ADHD-Related Issues:
ADDA (Attention Deficit Disorders Association) subcommittee on Coaching
Institute for the Advancement of ADHD Coaching – Current President
The Mental Health Association of New York City – Mental Health Coalition
Patient Oversight Committee (POS) of leading Managed Care Organization – Mental Health  Policy Committee
Educational Advocacy:

Committee Member, NCEPT (The National Council for the Effective Preparation of Teachers/ Therapists) – Creating a cohesive nationwide approach to the successful teaching of children with learning disabilities.
Committee Member, Goal Line 2000 – Education reform on-line network for the America 2000 Coalition,
Participant:, international broadcast on today's educational issues, Satellite Town Meeting with the U.S. Secretary of Education.
Consultant: U.S. Department of Education; New York City Department of Education; SETRC (Special Education Training Resource Center).
Consultant, the NYU School of Education Head Start Program.
Elected Chairperson, New York City Community School Board #3 – 1993-1996.  Helped establish educational policies for approximately 14,000 students in this racially, ethnically and economically diverse community.
Advocate and Parent Member, NYC Committee on Special Education (CSE).
Member, Advisory Council to the District Administrator of Special Education.
ADHD Consultant, Lecturer and Advocate
National and International Conferences:
Speaker, American Psychiatric Association Conference, 1996: Adult ADHD Issues Workshop (Sexual Functioning & ADHD).
Speaker, International ADHD ADDIS Conference, London UK, 1998 – Parenting, Education & Advocacy Workshops.
Speaker, International CHADD Conference, New York City, 1998 – Preschool Issues.
Moderator and speaker at CHADD and Orton Dyslexia Conferences.
Regional Conferences:
Speaker with Anne Ford to major NYC Financial Institutions on Disabilities in the Workplace, Spring 2005.
Speaker and Co-organizer of the NYU and CHADD of NYC Adult ADD Screening Day in New York City, 2004.
Organized the Harlem Neighborhood Forum on Children's Mental Health, ADD/ADHD and the African-American Community, sponsored by CHADD of New York City and the U.S. Center for Mental Health Services (CMHS), 2003.
Speaker, Adelphi University and CHADD of Nassau Regional Conference on ADHD
Speaker, Long Island Jewish Hospital
Medical and Legal Engagements:
Guest Faculty: Long Island Jewish Hospital/Schneider Children's Hospital and NYU Medical School.
Columbia University/Harlem Medical Center, Dept of Rehabilitative Medicine's Disability Awareness/Prevention program.
Speaker: New Jersey Society for Clinical Social Workers; Invited speaker: 2006 National Association of Social Workers/NJ; Resources for Children With Special Needs
Legal Consultant at trials.
On-line ADD Professional Forum.
Parent and Adult Seminars and Workshops:
CHADD Chapters in NYC (Manhattan), Brooklyn, Queens, Nassau, Westchester and Putnam Counties,  New Jersey and Danbury, CT
Manhattan Adult ADD Support Group
Private Sector Employers, including Fleet Securities, New York University and Lever Brothers, District Council 37 AFL-CIO
Private Schools, including The Gateway School of New York and The Churchill School and Center
Public Schools – Designed and held a series of weekend Parenting Programs sponsored by the New York City Board of Education and SETRC (Special Education Training Resource Center)
Social Agencies and Not-for-Profit Groups, including the New York City Learning Disabilities Association (LDA), Sinergia, Inc. (Hispanic community), YAI, Heartshare (foster parents) and the Legal Aid Society
Volunteers of America of Greater NY Developmental Services Division
Government Agencies, such as the NYC Department of Health and the Federal General Services Administration
Educator, Staff and Human Resources Training:
Multiple workshops for Public and Private School, regular and special ed administrators, teachers, school-based support teams, district and citywide specialists (psychologists, educational evaluators, occupational and physical therapists, speech and language teachers, travel trainers).  Topics:  Understanding ADHD, educational strategies, behavior management techniques, education rights and administration of services.
Staff Training for NYU's Resource Access Project (RAP), Head Start, ChildCare Inc., Volunteers of America preschool program and various summer camp programs.
The City of New York's Administration for Children's Services multi-disciplinary team panel, "Protecting the Children of NY."
Corporate Human Resource training, including Lever Brothers and Novartis.
Senior Certified Coach and President of the Institute For The Advancement of AD/HD Coaching. Â Â Does this belong here?
Media & Civic Related Activities:
Invited speaker for NPR (National Public Radio).
Participant: Educational videos on Attention Deficit Hyperactivity Disorder.
Media: Interviewed for magazine and newspaper articles and on both local and national television, discussing ADHD, Big Brothers, Parent Advocacy and related topics.
Interviewed for, and quoted in The New York Times Sunday Magazine section feature article on ADHD Adults in the Workplace, July 18, 2004.
On-Line Conference Guest Speaker and "ADHD Coach Expert" Columnist for ADHD.com.
Author or co-author of various articles and practical help guides on understanding and treating ADHD.
Co-author of book on ADHD that was translated to Spanish and published in Argentina.
Pre-publication reviewer of books on ADHD for national publisher and individual authors.
Former Board Member, Jewish Board of Family & Children's Services (non-sectarian).
Former Board Member, Kaplan House, a residential treatment facility for adolescents.
Former Chairman, New York City Big Brothers/Big Sisters.
The Hyde Schools – family-based character education.