From all of us at the ADD Resource Center, we wish you a very happy 2019!
The beginning of a new year is a great time to set yourself up for success by becoming more organized which in turn will help you be more productive, more mindful and less stressed.
Check out our tool recommendations
We hope you'll find something useful in helping you with your organizational goals.
Rubbermaid Configurations Deluxe Custom Closet Organizer System Kit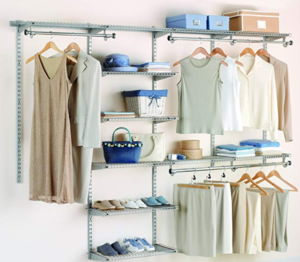 Organize your closet exactly the way you want with the Rubbermaid 3H89 Titanium Configurations Four to Eight Foot Deluxe Custom Closet Kit. This system can be customized, with no cutting required. With eight more feet of shelf space than the Four to Eight Foot Classic Custom Closet Kit, the Deluxe is the perfect system for storing folded sweaters, blankets, and other bulky items. Flexible features make it quick and easy to reconfigure your closet. And because all the pieces in the kit are constructed with a nickel-and-chrome-colored satin epoxy finish, they will protect and store your clothes and other valuables for years to come. Click here to order.
1InTheOffice Mesh Collection Desk Drawer Organizer Tray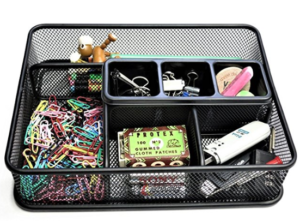 Desk drawer organizer Is made out of sturdy steel gives this wire mesh drawer organizer a substantial weight that helps it hold up well to frequent use and keeps it stable at the bottom of your drawer. The black epoxy coating adds an extra level of durability while ensuring this piece matches well in almost any office environment. Click here to order.
AdirOffice Mesh Desk Organizer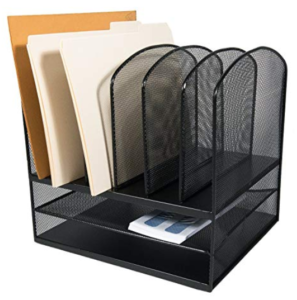 Durable as well as attractive, the Adir Mesh Desk Organizer has rounded corners to give it a classic look that never goes out of style. Additionally, it will make your work environment safer to boot. Easily accessible and keeping your desk clutter-free this desk storage unit will enhance your work environment for many years to come. Click here to order.
Gazelle Planner – Guided Daily Planning to Improve Organization, Time Management & Success.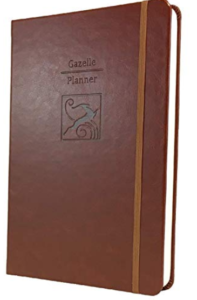 The Gazelle Planner Pro is a guided time management planner that steps you through each step of your day to help you reach your goals, while still getting your To Do List checked off. Plan weekly and monthly goals… even goals 6 months or more in the future. This is a flexible system to match your work style… work a little or work in big time chunks… then watch your dreams come true. Become organized and efficient with this daily calendar and planner. The more you use the Gazelle Planner you'll see that it's a focus planner, too. Click here to order.
Large Dry Erase Wall Calendar – 58″ x 38″ – Blank 2019 Reusable Annual Planner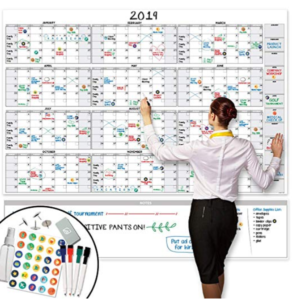 GOOD BYE CHAOS – HELLO GETTING IT ALL DONE ON TIME! Huge portable wall planner restores order, sanity and PEACE to your chaotic life, SAVING YOU time, energy, and stress while keeping everyone calm, happy and on task. Perfect for schedules, meals prep, goal setting, appointment reminders, jotting down ideas, planning out what you'll need when, where and why and keeping on track! Click here to order.
Bubble Wrap List – Pop Your To-Do List Away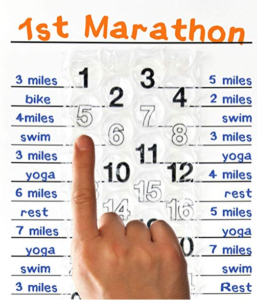 Have fun while you get stuff done! Large writable surface, use any marker. Heavy and Clear Bubble Wrap for a Bigger POP. Click here to order.
Freshware Meal Prep Containers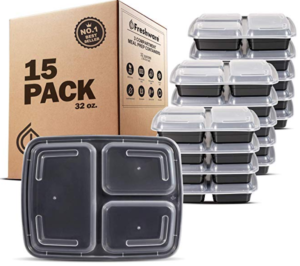 These Meal Prep/ Portion Control/ 21 Day Fix/ Food Storage Containers are a great new alternative to expensive plastic containers. Perfect for kids lunch box, meal box for work while they are highly recommended by most fitness experts for meal preps, portion control, and 21 day fix. MICROWAVEABLE, DISHWASHER, FREEZER SAFE & LEAK-RESISTANT DESIGN. Click here to order.